As much as we love to beat to our own drum, we couldn't help but make our first latte recipe post one of our favourite takes on the MATCHA LATTE! We're uber confident that our clever tricks will keep you on our side when it comes to crafting up your at-home nourishment.  
While we're of course here to share our love for this delicious warming latte, we're also of the mindset that knowledge is power. When you know what you're putting in that incredible body of yours, and why you'd truly want to, it makes adding things to your rituals that much more enticing!
Drumroll please… 
The trick to our thick and creamy matcha latte? CASHEW BUTTER! Nut butters are an epic add to any latte. They amp up your intake of healthy fats, and add flavour depth to what often-times could be a pretty bland sip! We love cashew butter in our matcha because its subtly sweet and smooth taste pairs beautifully with the green and earthy essence of matcha.
A thing or two about matcha. 
Matcha is an incredible plant medicine! It's chock full of supportive antioxidants, cleansing chlorophyll, and calming l-theanine. L-theanine is an amino acid that encourages a sense of calm throughout the mind and body, by decreasing brain chemicals known for winding us up – perfect for the caffeine sensitive!
While you're whipping up a matcha drink of any kind, it's important to keep in mind that the water should never reach a high boiling point as it hinders the benefits, and it has the potential to spoil the smooth taste you're hoping for. If you've ever had a matcha drink that tasted bitter, it's possible the water used was too hot. To put it simply, for a smoother tasting matcha, use a lower temperature water – ideally around 80°C / 175ºF. 
Adding in a little extra something.
If we're keeping our track record straight, this would hardly be a TWR born recipe if we didn't add in an adaptogenic somethin'. After all, these days who couldn't use some immune and stress support? 
One of our favourites is ASTRAGALUS ROOT – a herb we can thank traditional Chinese medicine for. As a leader among tonic herbs, the root of the astragalus plant is collected, dried, and traditionally made into a tea. Today, we can conveniently find many different forms of the extract. In our recipe below, we use it in a powdered extract form – but a tincture is equally as potent! 
Astragalus nourishes the immune system, contains a unique blend of antioxidants, and helps the body adapt to physical, emotional, and mental stressors. A less commonly known benefit of astragalus is its ability to support the function of the heart. Ready to get some in ya? Check out our recipe below!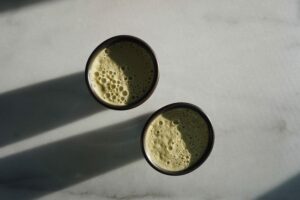 CASHEW MATCHA LATTE
Prep time: 5 minutes
Servings: 1
Kitchenware: blender 
Ingredients
1 mug of hot water (80°C / 175ºF)
½ tsp organic matcha
½ tsp astragalus extract
1-2 tbsp tocotrienols (rice bran solubles)
1 tbsp cashew butter
1 tsp raw honey OR 3-6 drops lakanto liquid sweetener
Optional: vanilla bean, nutmeg + cinnamon to taste
Instructions
Blend all ingredients for 30-60 seconds, or until smooth and creamy!